4x the Snowmaking this Winter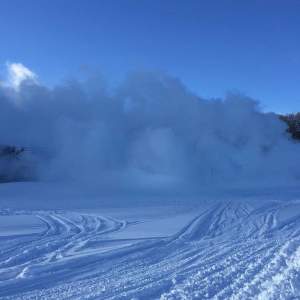 Last winter we DOUBLED our snowmaking capacity and this year we're doing it again, x2! We are excited to be adding a new fleet of snow guns to our existing inventory for the upcoming winter season. The new low energy, high temperature fixed placed snow guns will have a permanent home on Steeplechase, a black diamond run located beside the Outlaw Terrain Park. The new guns will not only provide coverage to Steeplechase, but to the Outlaw Terrain Park as well.
Not familiar with how a snow gun works? Let us explain! Horseshoe uses two types of snow guns: air/water guns and fan guns. Air/water guns have two hoses, one for compressed air and one for water. Fan guns produce their own compressed air and therefore only require a hose for water. In both cases, when the air and water mixes,  small droplets of water are formed and then shot out of the snow gun. By the time the droplets hit the ground, they have already crystallized into the wonderful fluffy white stuff that we all love so much!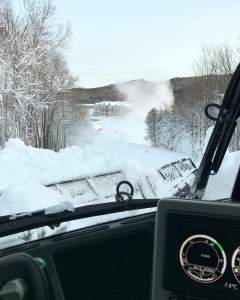 There is a certain art to making snow and it takes a dedicated team of individuals to get the job done right. Under the guidance of Steve Spiessman, Director of Mountain Operations, our snowmaking team works around the clock to get things up and running for opening day and to maintain excellent conditions throughout the course of the ski season. Steve has led the design and construction of multi-million dollar snowmaking projects, with 30 years of experience in the snowmaking business. He started his career at Blue Mountain Resort, working his way through various positions within their mountain operations team over the years, eventually becoming Director of Slope and Grounds Maintenance. Steve joined the Horseshoe team for the 2017-18 winter season and has been an integral part of executing the resort's snowmaking improvement plan. Steve and his team bring a lot of knowledge, experience and passion to the table, or in our case, the slopes!
For the 2018-19 season, the focus will be placed on opening Steeplechase first, which thanks to the new snow guns, can be accomplished within 24 hours of snowmaking! The snow guns will be closely placed along the hill and will provide high density coverage, with each gun producing 80 gallons of snow per minute, at temperatures as high as -2.2. In case you are wondering what 80 gallons of snow per minute looks like, it translates to one foot acre of snow every three and a half hours! Having the new fixed placed snow guns will free up use of our other snow guns, allowing our snowmaking team to cover the rest of the runs quicker and more efficiently. The addition of the fixed placed snow guns to Steeplechase is the first step in a resort-wide staged snowmaking plan. 
Our snowmaking team will also be able to utilize Lake Horseshoe at a greater capacity than last season. With a few equipment upgrades and some process changes, the team will be able to pull even more water from the lake for the 2018-19 winter season. More snow guns + more water = more snow! 
It's going to be an exciting winter at Horseshoe and we can't wait to get started. For now, we will enjoy the beautiful fall surroundings as we wait for colder temperatures to arrive and for the sound of the snow guns to signal the official start of ski season!
Stay tuned for more information on our NEW FIXED GRIP QUAD CHAIRLIFT coming December 2019, replacing chair 6.
Written by Krystle Forget