The Adventure Seeking Family's Guide to March Break
Too busy with work, household chores or driving kids to weekly activities to plan the ultimate March Break Getaway?
We've done all the work for you. 
We've laid down a 3-day getaway to keep the kids busy and guaranteed to hit the hay hard every night. Whether you're a first time visitor to Horseshoe or this is your regular March Break destination, we've curated a schedule to maximize your time spent at the resort. 
ARRIVAL DAY 
Time to set off for an epic few days of winter adventure. Check-in is at 4:00pm, so leave your home accordingly. If you are driving from downtown Toronto, try to leave for 2:00pm before the traffic really starts to build up after the work day. 
If you have chosen to stay in one of our condos with a fully equipped kitchen, you may want to budget time to stop at Foodland in Craighurst for a few groceries. It is located 10 minutes from the resort, right off Highway 400. If you don't want to eat out for all your meals, there are some easy hotel room friendly options as well. Our go-to for a busy weekend of activities is sandwich supplies! Easy to store in a mini fridge and to make even if you are in a hotel room. Stick to pre-sliced deli meat and cheese to make sandwich building quick and easy! Or go for a classic PB + J!
Woohoo! Now you're at the resort! Check-in, drop your bags and get ready for your first taste of outdoor adventure! The best way to kick off March Break and get warmed up for the next few days is with an all thrill, no skill activity. SNOW TUBING!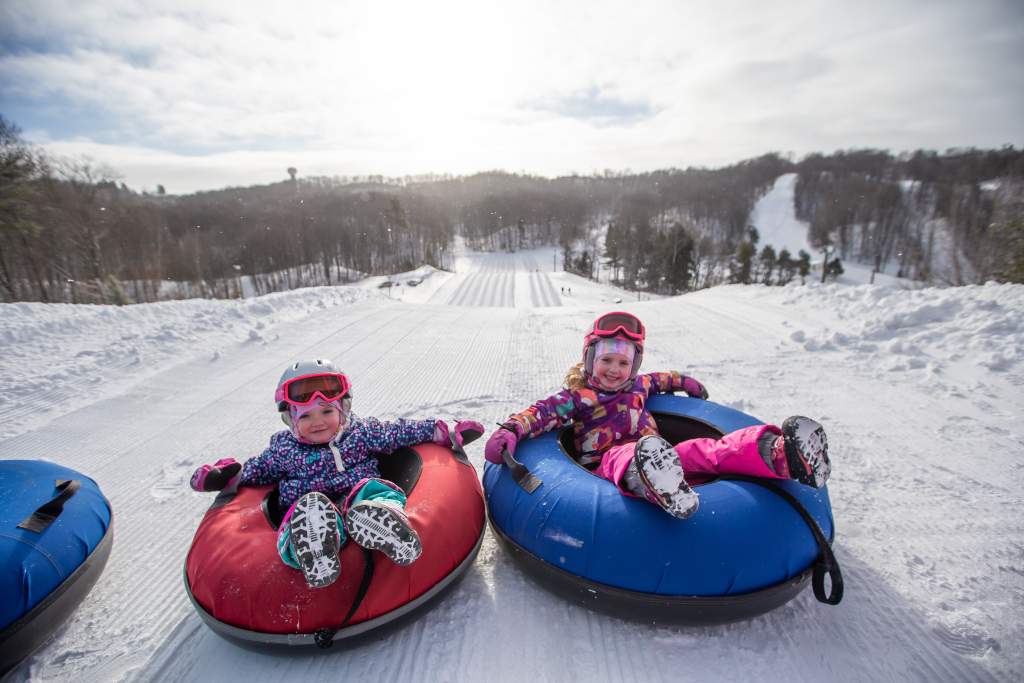 Horseshoe Resort is home to Ontario's longest tubing hill and the only one featuring a double drop! Tubing runs can be purchased in sets of 1, 5, 10, 15 or unlimited. Spin down the hill solo or in a group and then catch a ride back up on the magic carpet. 
We may call tubing the all thrill, no skill activity, but you can certainly work up an appetite! Head back to the Inn and hit up our newest restaurant, Eleven01 Taphouse + Kitchen. Throw down a variety of starters to share with the family and enjoy!
DAY 1
Rise and shine! Roll out of bed around 8:00am and straight into your ski gear, because this program has you getting first tracks! Before heading to the slopes, swing by the breakfast buffet to fuel up on bacon, eggs, pancakes, oatmeal or whatever your ideal pre-ski meal is. Head to guest services to purchase your Day n' Night lift ticket, then out to the ski hill for a 9:00am opening! 
We have 29 runs ranging from beginner to expert for you to explore. To start, take the Copeland Express (our high speed 6 person chair) for a few warm up runs on Round-up and Ponytail. Once your legs are feeling ready to go, start making your way over to the Highland Express. This chair is only open during the day, so get the most out of these runs while you can access them. To get from the Copeland Express to the Highland Express take Donkey Serenade. 
When you start to hear your stomach growling through your snowsuit, make your way along the base of the hill to get back to the main chalet. Rack up your skis or board and head into the Crazy Horse to re-fuel and warm up by the fire.
Now, no hesitating… as soon as your server comes to greet you, get your order of Kettle Fried Nachos rolling. You won't be disappointed snacking on these while you wait for your main meal. Some of our lunch favourites are the Thai Noodle Bowl, just about any burger on the menu or the Chef Crafted Sandwich of the Day! Have the willpower to stay healthy? Try the Power Salad. For the kiddos, you can't go wrong with a Cheese Pizza or Chicken Fingers!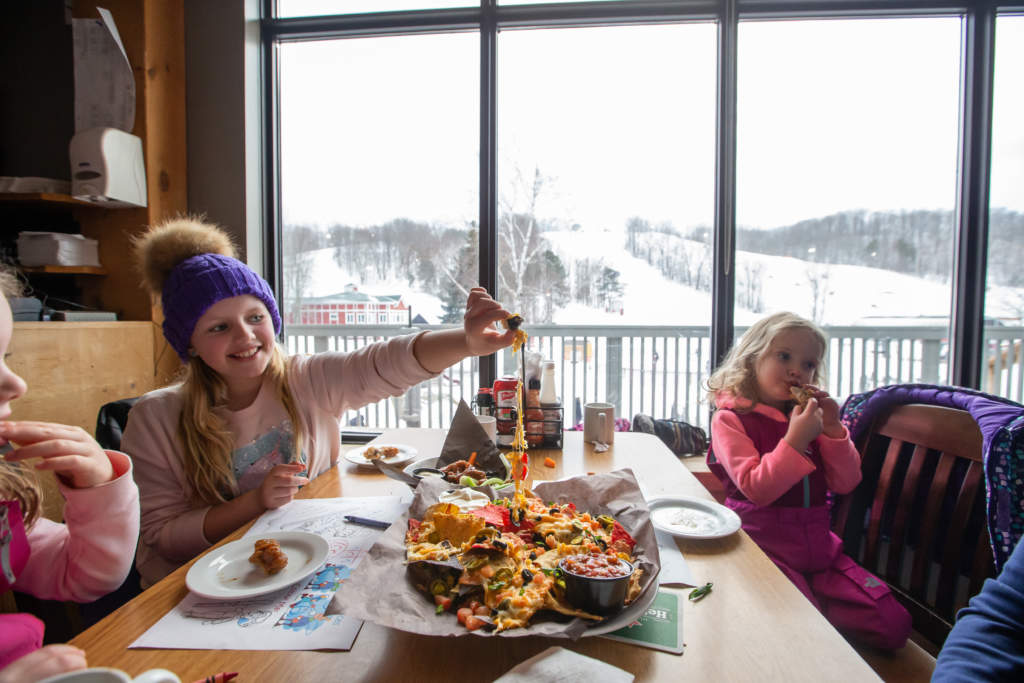 After lunch, it's time to go back out on the hill! Ski your favourites again or venture further and try a more challenging run! Check out the March Break Activity Guide because there might just be a marshmallow roast on the Crazy Horse Patio, which makes for a nice afternoon snack.
For dinner, we recommend trying out Eleven01's main courses. The Smash Burger or Fish and Chips taste extra delicious after a full day of skiing. Then it's time to hit the ski hill under the lights and stars for a whole other experience!
Feeling a little stiff after a day of skiing? The hot tub is the perfect solution to sore ski muscles and guaranteed to make you feel nice and relaxed before bed. Plus, you can let the kids swim in the pool and drain any energy left in the tank from Day 1.
DAY 2
Day 2 is about all things Nordic. Horseshoe is best known for its alpine skiing, but there is another world of winter fun to be had across the street at the Cross Country Centre. Here, you can choose from three different activities: Cross Country Skiing, Fat Biking or Snowshoeing. Here's some information to help you decide:
Cross Country Skiing

We have 30km of groomed trails for skate and classic cross country skiing.

Rentals available

Fat Biking

What is a fat bike? It looks very similar to a regular mountain bike, but with extra wide tires to make it easy to ride on the snow!

Experience 9km of trail through the Copeland Forest, perfect for beginners and intermediate riders.

Snowshoeing

We are offering guided snowshoe tours weekdays throughout March Break at 11am – Check the

activity guide

for the details!

We have 3 different snowshoe trails to explore on your own ranging from 4km – 4.5km with options for an easy, intermediate and difficult loop 

Snowshoe rentals available
If you thought you worked up an appetite yesterday, any of these Nordic activities will definitely have you ready for lunch. Time to break out the sandwich supplies! 
After lunch, get ready to enjoy some of our special March Break entertainment. We have everything from a wrestling show, face painting, ventriloquist, hands on exotic animals and more! No matter what day you take your vacation, there is something exciting going on at the resort in the afternoon. Check the Activity Guide to time your vacation with the entertainment you want to see! At some point, make your way over to the base of the ski hill and treat the family to Beavertails! They are a ski trip staple!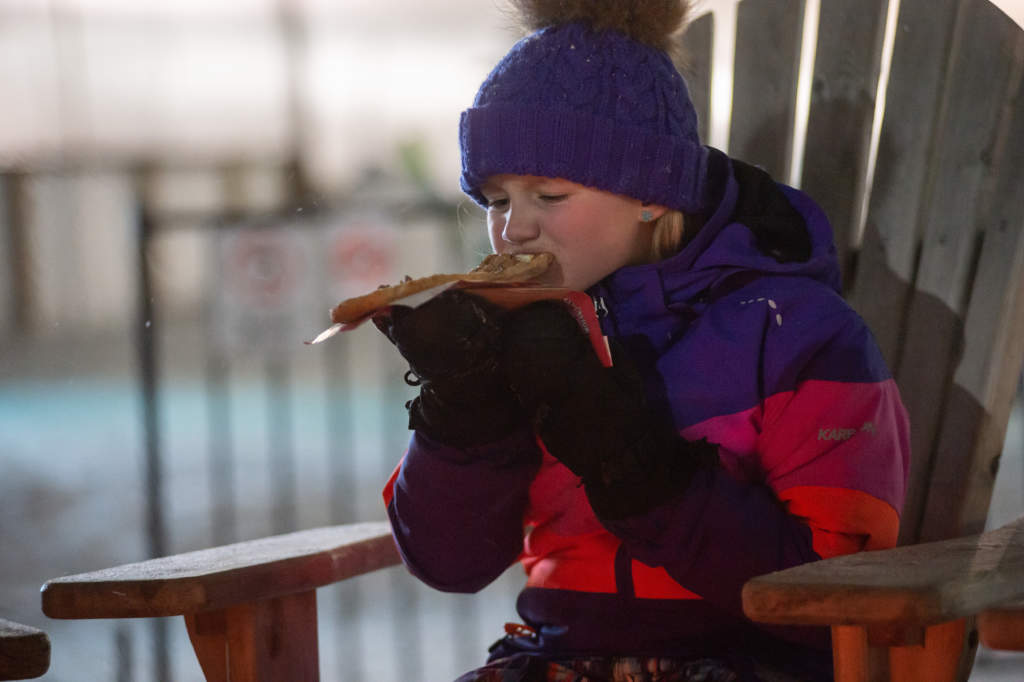 If you're in a condo with a kitchen, you may be ready for a home cooked meal for dinner. Otherwise, it's time to try that menu item you're still craving. After dinner, get ready for a cozy evening at family movie night. Find our movie schedule in the activity guide.
DAY 3
Check out is at 11:00am, but that doesn't mean the fun has to come to an end. There is plenty of time to fit in one more day of skiing before returning to the real world. Wake up and have breakfast either in your room or fill up at the buffet. Get dressed for the slopes and pack up everything else. Maybe make one last sandwich to stuff in your pocket. Check-out and put your bags in the car for the day. Grab your Day Lift Ticket, which gives you access to the hill from 9:00am to 4:30pm and ski the day away! 
When your legs are too tired to keep going, you know it's been an awesome holiday and you're ready to head back home.
Safe travels!
*Not all activities are taking place every day. Please see our activity guide to align your visit with the activities you are interested in.
Written by Hannah Simms