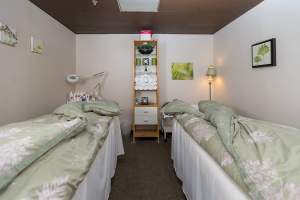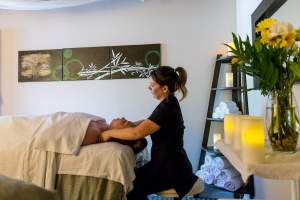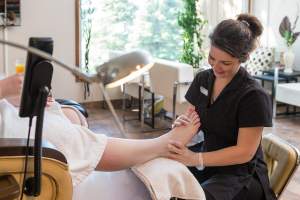 Amba Spa
**Please note that the Horseshoe Retreat is unavailable until further notice**
Relax, Restore and Rejuvenate with our Horseshoe Retreat package! This luxurious package includes a rejuvenating facial with an eye treatment, relaxing heated peach paraffin wax treatments on your hands and feet, as well as a cleansing back scrub and back massage.  You will leave feeling relaxed and rejuvenated.
2 hours | $220
*Upgrade to RMT for an extra $25
Fall Rejuvenation
Includes dry brush exfoliation, hydrating oil wrap, foot cleanse and massage, full body relaxation massage followed by a signature pedicure.
3 hours | $320
*Upgrade to RMT for an extra $25
---
Wellness Retreat
Includes back and leg rejuvenation treatment, hand and foot exfoliation and paraffin treatment and a full body relaxation massage.
2 hours | $207
---
Sunflower Splash 
Come in for our September Sunflower Splash package! Try our exfoliating facial and let us expose your radiance! Since your hands and feet do all the work, rehydrate them with our satin soft, heated paraffin wax. This package is not complete until you are fully relaxed and rejuvenated with an exfoliating back scrub, hot towels and back massage. Includes a choice of one of our signature products to continue the pampering at home.
2 hours | $215
*Upgrade to RMT for an extra $25
---
Autumn Sun
Let the Autumn Sun relax you and the Amba Spa rejuvenate you with our Autumn Sun package! Indulge yourself with a custom facial to brighten your complexion, rehydrate after the hot summer sun and exfoliate the dry skin. Then surround yourself in warmth and relaxation with a full body aromatherapy massage.
2 hours | $220
*Upgrade to RMT for an extra $25
Let us take you away with our massage and reflexology combo. Enjoy 50 minutes of reflexology along with 50 minutes of massage therapy to help you unwind, relax and leave you feeling restored and rejuvenated.
2 hours | $195
*Upgrade to RMT for an extra $25
---
Find complete relaxation and rejuvenation | Book your appointment (705) 835-7891
*Please note that additional discounts cannot be applied to spa packages and monthly promotions. Pricing and services are subject to change without notice. All prices exclude tax and gratuity.