RFID Frequently Asked Questions
Horseshoe Resort Uses RFID Access Cards to Provide Lift Access to Guests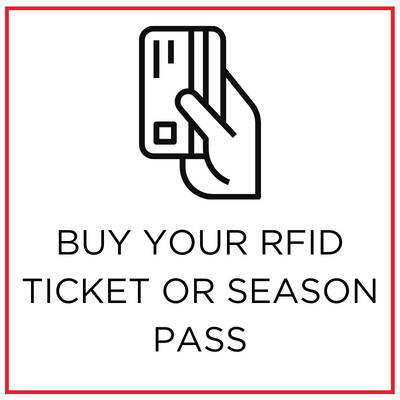 RFID Stands for Radio Frequency Identification Device
RFID cards contain a small circuit that holds information relating to your season pass or lift ticket. When the card is in close proximity to the access date at the lifts, the circuit registers and the gate is automatically opened.
This technology minimizes your time spent between arriving at the resort & getting on the slopes. Purchase and reloading of your RFID card is completely self-serve via our online store and ticketing pickup kiosks on-site.
Do I have to purchase an RFID card?
Yes. Lift access is by RFID card only regardless of if you are a skier, snowboarder, mountain biker or what pass type you have. Paper tickets will no longer be used at Horseshoe Resort. Once you purchase a card, it can be used indefinitely.
Where do I put my RFID card after I get it?
RFID cards should be kept in a left-side pocket and away from other cards, cell phones or anything magnetic. Younger and shorter guests should ensure their RFID card is in a top pocket.
Do I have to buy a new RFID card every season?
No, RFID cards are reloadable! You can reload your RFID card online by entering the WTP number that is written on the card during checkout, or at the Guest Services desk in our main chalet.
Can I modify my RFID card?
No, RFID cards should not be bent, have holes punched in them or modified in any way – these actions may cause the card to not function properly.
What do I do if I lose my RFID card or forget it at home?
If you lose, break or forget your RFID card, a replacement card can be purchased at Guest Services for a $20 replacement fee.
Can I load multiple guests passes onto the same RFID card?
Each card is unique to its owner, and will not be able to contain multiple ticket/pass types.
Can I carry multiple access cards at once? Can parents carry their children's cards?
Access gates will only be able to read one card, so each skier must go through a separate gate with their own RFID card.  
What if my RFID card does not work at the lift?
If your RFID card does not work at the lift, please visit Guest Services in the main chalet. Lift operators will not admit riders whose RFID card is not working.
What information/data does the RFID card system store?
The system recognizes each time an RFID card is scanned at the lift and whether or not it was valid or not, along with the date & time. This data is used to guide resort improvements and to determine pass usage.