Safety and Risk Awareness
Skiing, snowboarding and other activities that take place at ski areas involve the risk of injury. The information contained in the Safety and Risk Awareness section of this website is intended to inform you of the risks, dangers and hazards that you may encounter at a ski area and help you to stay safe while enjoying these activities. Whether you are a participant in these activities or a parent or guardian of a minor participant, please take the time to familiarize yourself with the Safety and Risk Awareness information on this website.
---
EXCLUSION OF LIABILITY
The use of ski area premises and facilities and participation in activities at ski areas involves various risks, dangers and hazards. It is a condition of your use of the premises and facilities and your participation in these activities that you assume all risk of personal injury, death or property loss resulting from any cause whatsoever, including negligence, breach of contract or breach of any duty of care on the part of the ski area operator. Your legal responsibility as a user of the ski area premises and facilities or participant in activities at the ski area is explained in the following notice, which you will see posted at the ski area.
---
WINTER ACTIVITIES
Skiing, snowboarding, cross country skiing (nordic), snow tubing, fat biking and snowshoeing involve various risks, dangers and hazards including, but not limited to the following:
boarding, riding and disembarking ski lifts;
changing weather conditions;
avalanches;
exposed rock, earth, ice and other natural objects;
trees, tree wells, tree stumps and forest deadfall;
the condition of snow or ice on or beneath the surface;
variations in the terrain which may create blind spots or areas of reduced visibility;
variations in the surface or sub-surface, including changes due to man-made or artificial snow;
variable and difficult conditions;
streams, creeks and exposed holes in the snow pack above streams or creeks;
cliffs; crevasses;
snowcat roads, road-banks or cut-banks;
collision with lift towers, fences, snow making equipment, snow grooming equipment, snowcats, snowmobiles or other vehicles, equipment or structures;
encounters with domestic and wild animals including dogs and bears;
collision with other persons;
loss of balance or control; slips, trips and falls;
accidents during snow school lessons;
negligent first aid;
failure to act safely or within one's own ability or to stay within designated areas;
negligence of other persons; and NEGLIGENCE ON THE PART OF THE OPERATOR.
---
RESPONSIBILITY CODE
There are elements of risk that common sense and personal awareness can help reduce. Regardless of how you decide to use the slopes, always show courtesy to others. Please adhere to the code listed below and share with others the responsibility for a safe outdoor experience.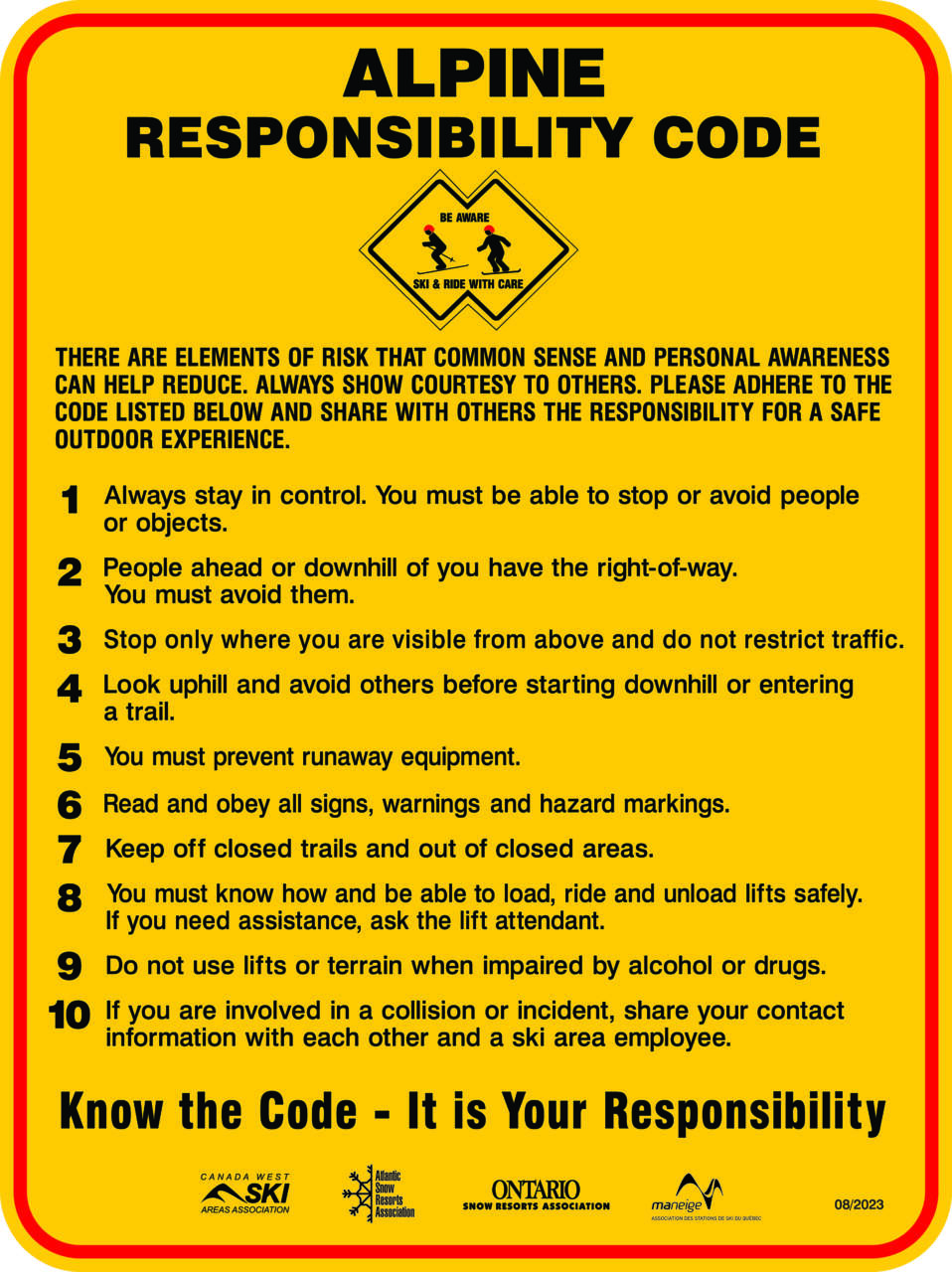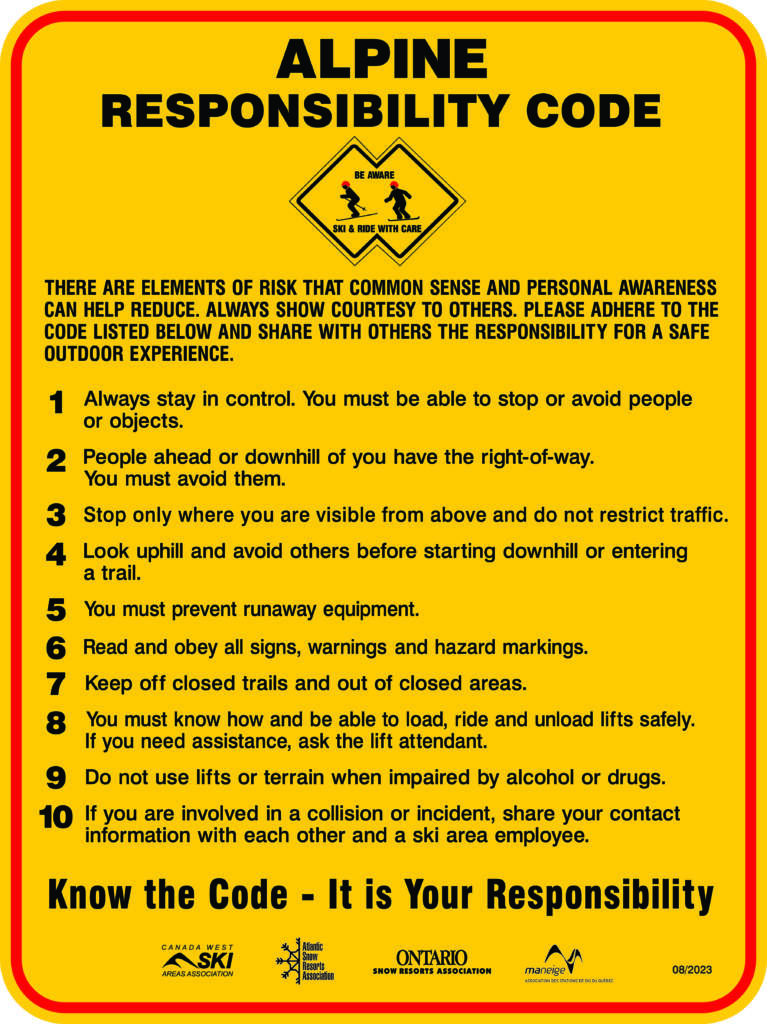 ---
TRAIL SIGNAGE
Circles, Squares and Diamonds: Understanding Trail Designations
These symbols represent a ski resort trail designation system that categorizes ski and snowboard slopes by difficulty. Resorts throughout North America (and much of the world) use green circles, blue squares and black diamonds to indicate difficulty. Nordic trail systems also often use these symbols. Each resort ranks it's own trails based on the relative difficulty of their specific area. 

Freestyle Terrain
Freestyle Terrain has four levels of progression and designation for size. Start small and work your way up. It is your responsibility to familiarize yourself with the terrain before attempting any of the procedures.
---
NOTICE OF PHOTOGRAPHY/VIDEOGRAPHY
When entering Horseshoe Resort common spaces (including but not limited to activity terrain, chalet spaces, restaurants, hotel and condo buildings), you enter an area where photography, audio and video recording may occur. Photographs and video footage may be taken by a representative of Horseshoe Resort (HSV LP), Freed Hotels & Resorts or any media outlets that may be present.
By entering the premises, you consent to such recording media and its release, publication, exhibition or reproduction of any and all recorded media of your appearance, voice, and name for any purpose whatsoever in perpetuity in connection with Horseshoe Resort and its initiatives, including, by way of example only, use on websites, in social media, news and advertising.
By entering the premises, you waive and release any claims you may have related to the use of recorded media of you at the event, including, without limitation, any right to inspect or approve the photo, video or audio recording of you, any claims for invasion of privacy, violation of the right of publicity, defamation, and copyright infringement or for any fees for use of such record media. You understand that all photography, filming and/or recording will be done in reliance on this consent.
If you do not agree, please do not enter the premises.
For safety and privacy purposes, Horseshoe Resort strictly prohibits the operation of commercial or personal aerial drones on resort property.
Any authorized operation of aerial drones may be governed by Transport Canada, the Aeronautics Act, the Canadian Aviation Regulations, local law enforcement, as well as those policies separately established by Horseshoe Resort. These policies may include certification, training, insurance coverage, indemnification requirements and waivers or release of liability. Any violation of this policy may involve suspension of guest privileges at Horseshoe Resort, as well as confiscation of any equipment and may subject violators to any damage including but not limited to, damages for violations of privacy and/or physical or personal injuries, or regulatory fines and legal fees.
---
EQUIPMENT RESTRICTIONS
Please note that the following equipment is not permitted at Horseshoe Resort:
Snow Skates
Ski Bikes
Boot Skates
All equipment must have metal edges.
---
IMPORTANT: For safety purposes, ski or snowboard equipment is required on the ski hill at all times. This includes the beginner hill.