Click here for COVID-19 policies and procedures
---
To ensure the safety and well-being of our guests and team members, we have implemented new safety standards and protocols with the guidance of the College of Massage Therapy (CMTO) and Ontario's Ministry of Health.
Please note that the lounge is currently closed and some services may not be available due to COVID-19 restrictions.
---
Horseshoe Resort invites you to a place where tranquility calms the mind, body and soul. Leave the worries and stresses of the outside world at the door and immerse your senses in an oasis of relaxation. Offering the finest spa services available, our highly trained staff uses only the best products to achieve optimum results from your chosen treatment. With a selection of soothing body treatments, massage therapy, facials, manicures and pedicures, you can enhance your stay with a treatment package custom designed just for you.
Our Spa team has members fully trained in Relaxation Massage (RM) and Registered Massage Therapy (RMT). If you require a receipt from an RMT for insurance purposes, please request this when you book your massage treatment.
---
The AMBA Spa Collection 
Inspired by the natural world and harmony, the AMBA Spa Collection brings you results-oriented treatments and proven techniques hand-picked from around the globe. We have balanced these therapies together in a carefully designed selection of AMBA retreats, rituals and signature treatments, each created to help you reach your goals. We share them with you in settings as diverse and inspiring as our Canadian landscape. Our experts are here to provide you with amazing experiences, plus the tips, know-how, advice and products to extend those spa benefits at home. 
From real stress relief to stylish finishing touches, it's all about you. 
Simple, pure, polished. 
Welcome to your AMBA Moment.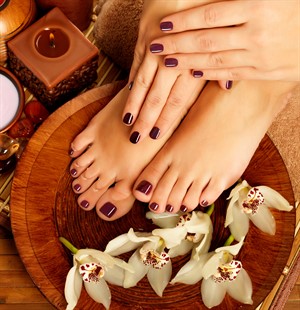 ---
Spa Services
---
Spa Specials
Relax, Restore and Rejuvenate with our Horseshoe Retreat package! This luxurious package includes a rejuvenating facial with an eye treatment, relaxing heated peach paraffin wax treatments on your hands and feet, as well as a cleansing back scrub and back massage.  You will leave feeling relaxed and rejuvenated.
2 hours | $220
*Upgrade to RMT for an extra $25
Winter Specials
Full Rejuvenation
Includes dry brush exfoliation, hydrating oil wrap, foot cleanse and massage, full body relaxation massage followed by a signature pedicure.
3 hours | $320
*Upgrade to RMT for an extra $25
Wellness Retreat
Includes back and leg rejuvenation treatment, hand and foot exfoliation and paraffin treatment and a full body relaxation massage.
2 hours | $207
Winter Luxury
Includes an Aromatherapy body wrap, a Full Body Relaxation massage and paraffin on your hands and feet!
2 hours | $199.00
*NO RMT upgrade
*Only available Monday-Friday until March 1, 2022
Let us take you away with our massage and reflexology combo. Enjoy 50 minutes of reflexology along with 50 minutes of massage therapy to help you unwind, relax and leave you feeling restored and rejuvenated.
2 hours | $195
*Upgrade to RMT for an extra $25
---
Find complete relaxation and rejuvenation |  Book your Amba Spa appointment: (705) 835-7891 or spahvr@horseshoeresort.com
---
We encourage you to pre-book your Amba spa appointment in order to avoid disappointment.
All massages can be scheduled with a Registered Massage Therapist or a Relaxation Therapist. Please confirm when booking.
*Please note that additional discounts cannot be applied to spa packages and monthly promotions. Pricing and services are subject to change without notice. All prices exclude tax and gratuity.