Tuning, Waxing and Storage, Oh My!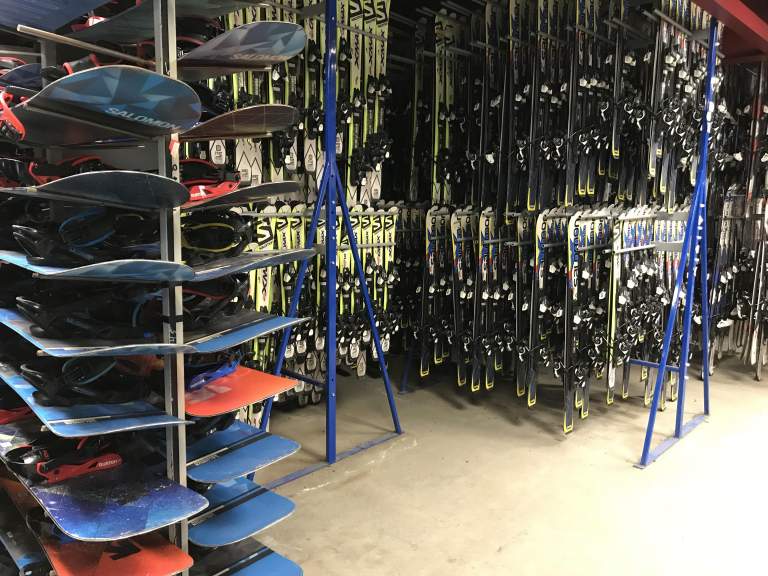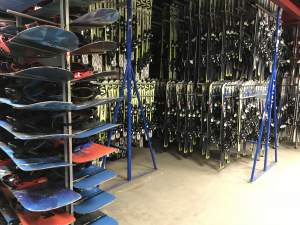 Now that ski season has come to an end, we thought that we should share a few tricks of the trade when it comes to making sure your ski and snowboard gear stays in good shape! While it might seem easier to just toss your gear in the closet and forget about it until next year, a little post-season TLC and some preventative maintenance goes a long way in ensuring that your gear will not only last longer, but also perform better.  Regular maintenance might end up saving you from costly repairs in the long run as well.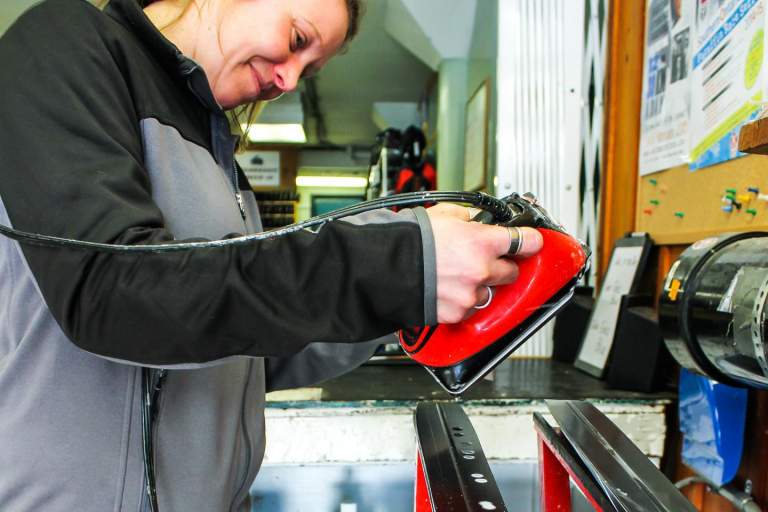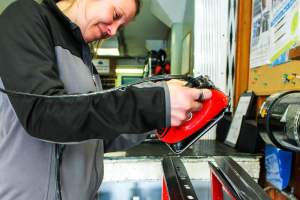 The most basic (and probably easiest) thing to do at the end of the season is to simply clean your skis or snowboard. A cloth and water is all that you need! Just make sure you dry them well to avoid any rust from forming. Of course, cleaning your gear on a regular basis throughout the ski season isn't a bad idea either! If you want to take things a step further, tuning and waxing your gear is definitely something that is recommended. Grinding the base of your skis or board will remove any burrs, gouges or rust, ensuring a smooth surface.  Waxing increases the longevity of the base and also provides a better sliding surface. In addition, "treating skis or snowboards with storage wax at the end of the season will keep the base nice and hydrated over the summer months," noted our Rentals Supervisor, Niamh Mccullagh. Just remember to scrape it off before you hit the slopes at the start of the season.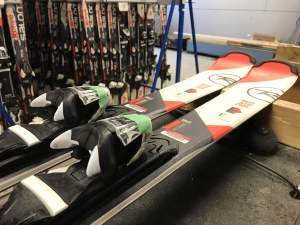 When it comes to bindings, many skiers turn the DIN setting down at the end of the season. This is a good practice to follow, as the springs in bindings can lose tension as they age. Turning the DIN setting down helps prevent the springs from becoming weak and can also make them last longer. You can put a piece of tape down where the DIN setting was so that you can easily turn it back up to the same spot next season. Make sure you check your bindings to make sure that they aren't any screws missing or loose–this goes for snowboards too!
When you are ready to bring your gear back out next winter, any shop that performs maintenance or services on skis will gladly scrape the storage wax off for you and turn your bindings back up. It's also recommended to have a binding test done at the start of the season to ensure that they are in proper working order.
Storing your skis or snowboard is more important than one might think. A dry, temperature controlled space, such as a closet, is ideal, as damp or humid conditions can affect your gear. Ensure that they are in a neutral position in order to eliminate any unnecessary stress.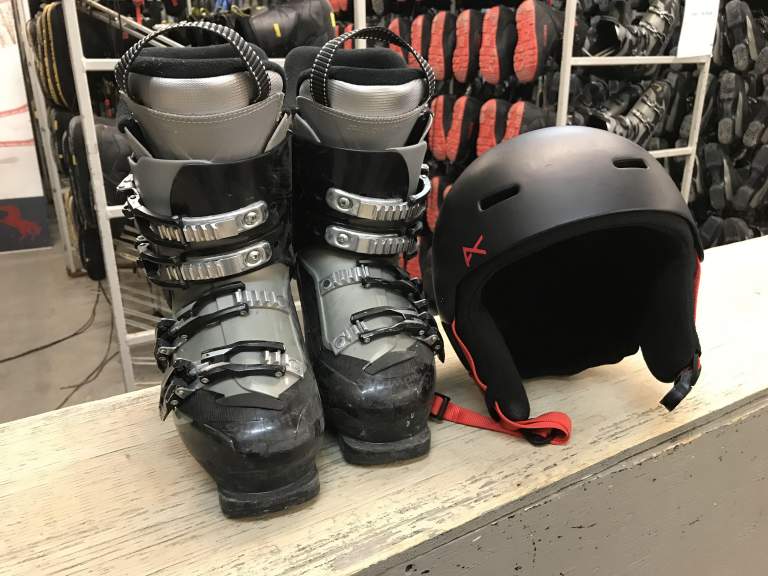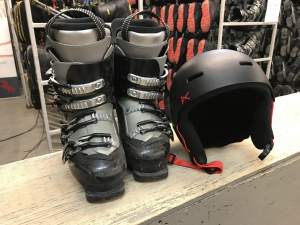 Let's not forget about your boots and helmet! Helmets have a shelf life of 3 – 5 seasons, as the foam and plastic becomes less effective with age. If you have had your helmet for 5 seasons, it's time to shop for a new one. Have you had a hard fall on the slopes? If so, you might need to part ways with your helmet. Any damage to a helmet, exterior or interior, can affect the way that it protects your head. When you put your boots away for the season, pull the liners out to make sure that they are completely dry. You don't want to have to deal with stinky boots or potential mold! Remember to buckle the boots loosely so that they maintain their shape and check the heels and toes to make sure that they aren't too worn.
We hope that you will find these tips useful and look forward to seeing you (and your well maintained ski and snowboard gear) on the slopes next season!
Written by Krystle Forget