What to Wear Skiing and Snowboarding in Ontario
Dress properly to stay on the slopes longer!
Are you new to skiing and snowboarding and wondering what to wear? 
Maybe you're a seasoned pro when it comes to carving turns, but you still feel susceptible to the cold?
Although it's never too early to hit the après patio, we want to make sure YOU decide when it's time to call it a day, not your cold toes. We have all the information you need on what to wear skiing and snowboarding in Ontario!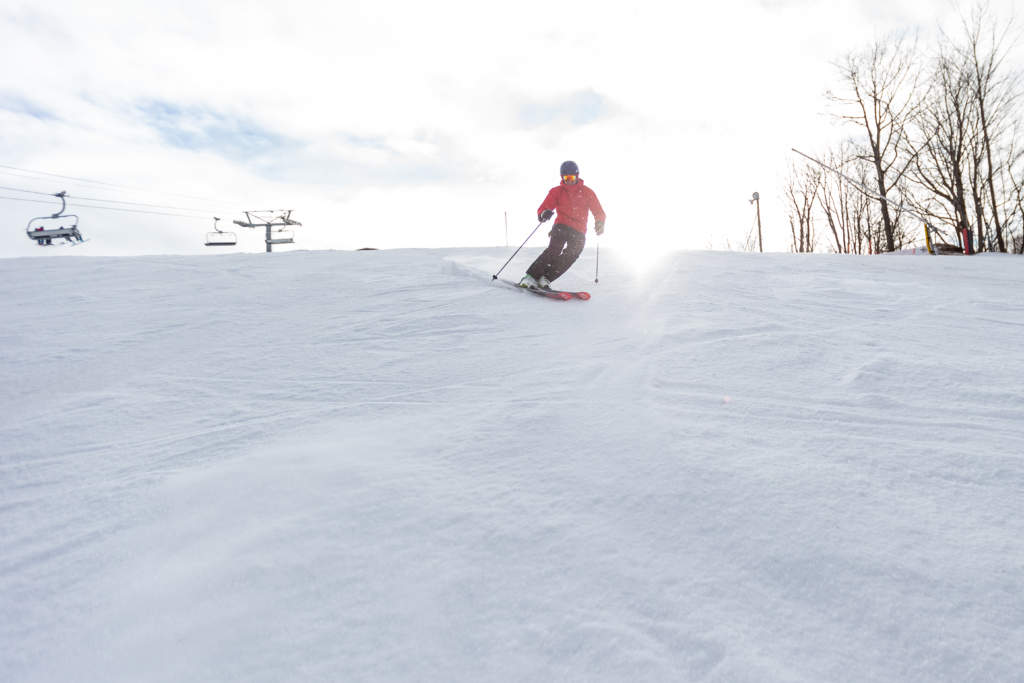 Why Do You Get Cold Skiing?
We live in Canada, which means that some days, it's going to be really cold! It's all about how we embrace it though! If you can understand the factors that contribute to feeling cold, you can dress smarter to prevent the cold temperatures from creeping in. Here are a few things to keep in mind:
The Wind-chill Factor: The wind can make it feel significantly colder than the air temperature alone. Take a look at the "Feels like" section of the weather report which accounts for wind chill.
Clothing tip: Make sure you have a windproof jacket.
Sweat: Skiing and snowboarding is hard work, which can cause your body to sweat. When clothing gets damp it can quickly lead to getting a chill.
Clothing tip: Try a moisture wicking base layer. See below for the best base layer materials!
Restricted Circulation: Restricting gear, especially boots that are too tight, will limit blood flow which can make your feet feel colder sooner.
Clothing tip: Wear boots with just enough wiggle room for your toes and proper ski socks.
With these factors in mind, keep reading for all the details to dress properly for skiing and snowboarding!
The Base Layer
What is a base layer?
A base layer is the next to skin layer designed to regulate temperature by wicking moisture away from the skin to stay dry and warm. It includes a shirt and bottoms.
Why do you need a base layer?
Your muscles are working hard, so even though it's cold outside, your body can still sweat. You likely won't notice a problem if you can keep moving, but stopping is inevitable. If you want to keep skiing, the best way up is the chairlift. Once on the chairlift, that damp base layer will cool down and it won't be long before a hard to shake chill sets in.
The key to a warm base layer is what it's made of.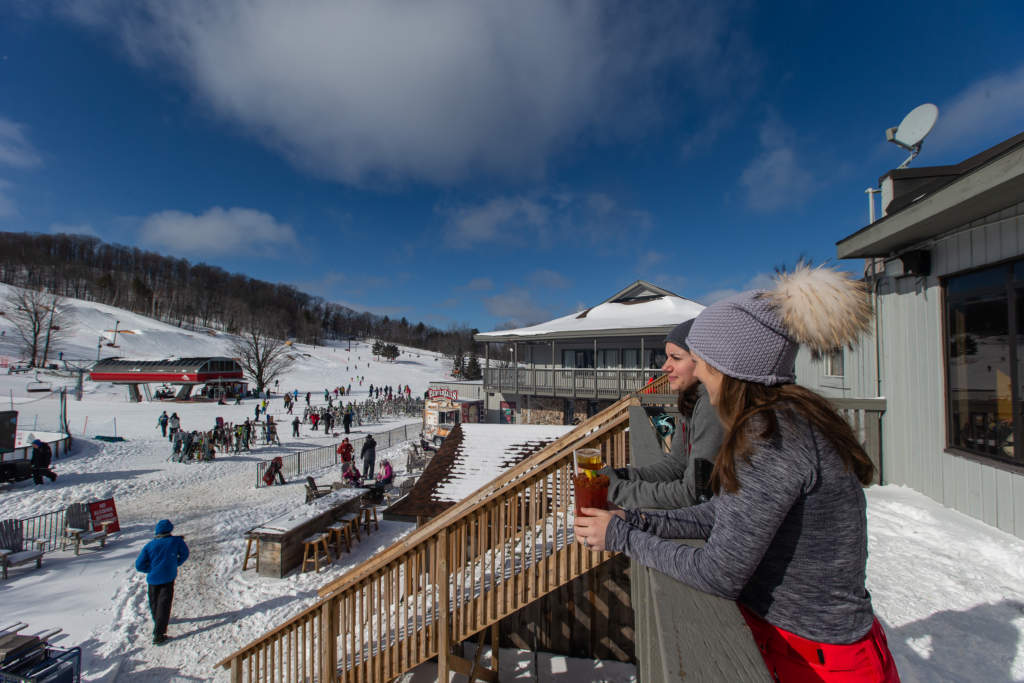 Types of base layers
If there is one takeaway from this blog, here it is:
#1 Rule: AVOID COTTON!  
(This means no jeans too! Jeans have poor sweat-wicking capabilities and tend to restrict movement).
Here are the best base layer alternatives:
 
Pros
Cons
Wool

Remains warm even when wet

Extremely odor resistant

Also keeps you cool in warmer conditions

Typically more expensive

Holds moisture (you won't be cold, but won't feel as dry as a synthetic)

Synthetic

Excellent moisture wicking 

Typically less expensive

Highly durable

Silk

Hypoallergenic

Most discreet base layer (excellent for everyday use)

Moisture wicking capabilities are not great for high-intensity activities
Check the tag of the clothes you wear skiing or snowboarding. If it's full of cotton, it's time to change it up!
Base Layer Weight and Fit
Most base layer tops and bottoms will come in different weights: lightweight, midweight and heavyweight. As the weight increases, the warmer the base layer will be.
Both your base layer top and bottom should fit snugly to function properly. It's called the next-to-skin layer, so keep in mind it should be right next to your skin. Remember, it's not a fashion show! Nobody is going to see what's underneath. Prioritize warmth over style.
Ski Socks
Thicker is not always better! 
Again, the material is what counts when it comes to socks. 
A thick cotton sock will be much colder than a thinner one made of wool or synthetic material. The wool or synthetic (ex. polyester), will help wick the moisture away from your skin just like a base layer. A thick cotton sock will hold onto moisture and result in some very chilly toes.
Really thick socks can also make your boots too tight, restricting blood flow to your toes. Instead, opt for a thinner sock with padding in just the right places.
If money is no object when it comes to warmth on the ski hill, boot heaters or heated socks are worth looking into!
The Mid Layer
The mid layer, as it sounds, goes between your base layer and outer layer. It's main goal is to provide warmth and insulation. There is lots of flexibility with this layer. It can range anywhere from a cozy sweater to a vest or light down jacket. 
Typically, your base layer and outer layer don't change, but the mid layer may differ day to day. On warmer days, you may not even wear one at all.  It's not a bad idea to pack a few different mid layer options when travelling to accommodate different conditions.
This is probably getting repetitive, but we'll say it again… keep your midlayer cotton free. To get the most warmth out of the mid layer, stick to fleece, more wool, down or synthetic insulation.
The Outer Layer
The outer layer, which includes a jacket and snowpants, is all about protection from the elements.
The three key ingredients for the perfect outer layer is finding a balance between being windproof, waterproof and breathable.
Windproof and waterproof are pretty straight forward terms: they block out the wind and water. Two other variations that commonly pop up when talking about outer layers are wind-resistant and water-resistant. Although these do not 100% block wind and water, they do allow for more breathability. Breathability allows some of the heat and moisture your body generates out of the jacket or pants to avoid condensation and damp inner layers.
Another option to increase water resistance is using a spray or coating on the outside of a jacket. Most new jackets already have a waterproof or resistant coating, but if you have an older, worn out jacket you can purchase the coating to re-apply yourself and reinforce the water resisting properties.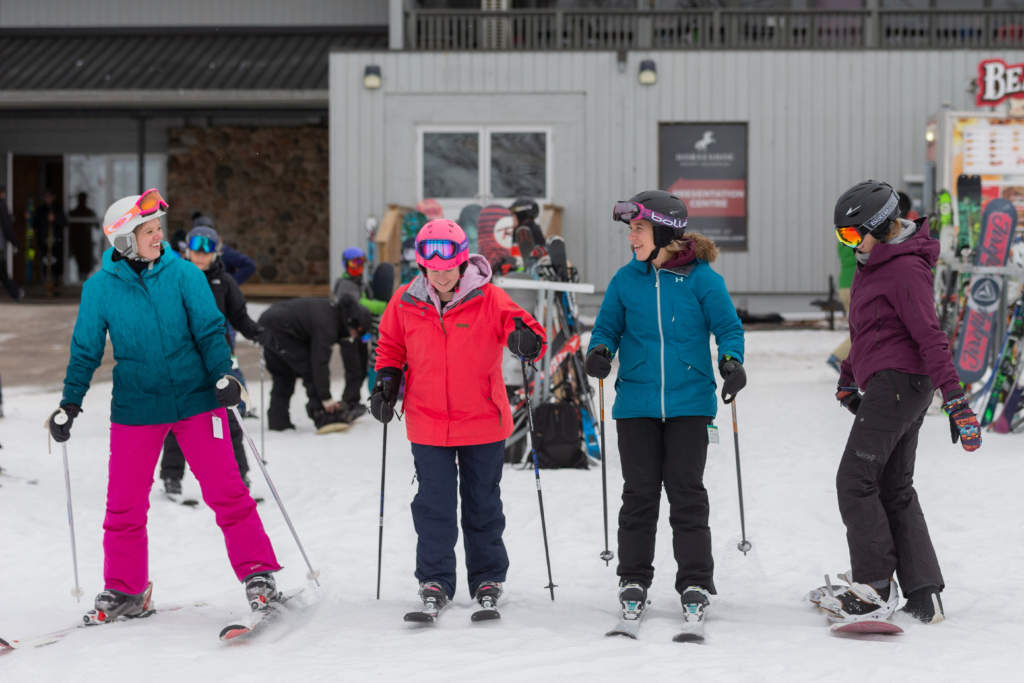 Jackets and snow pants can range from a shell weight to heavily insulated. In Ontario, most skiers and snowboarders lean towards an insulated jacket and snowpants. With the right mid layer (or two), a shell will also get the job done in cold conditions.
Additional Ski and Snowboard Gear
Mitts & Gloves
Mitts vs. Gloves is a common debate, which ultimately comes down to personal preference. Mitts can provide extra warmth, but at the cost of some dexterity. Either way, there are a few common features you may want to consider for skiing and snowboarding.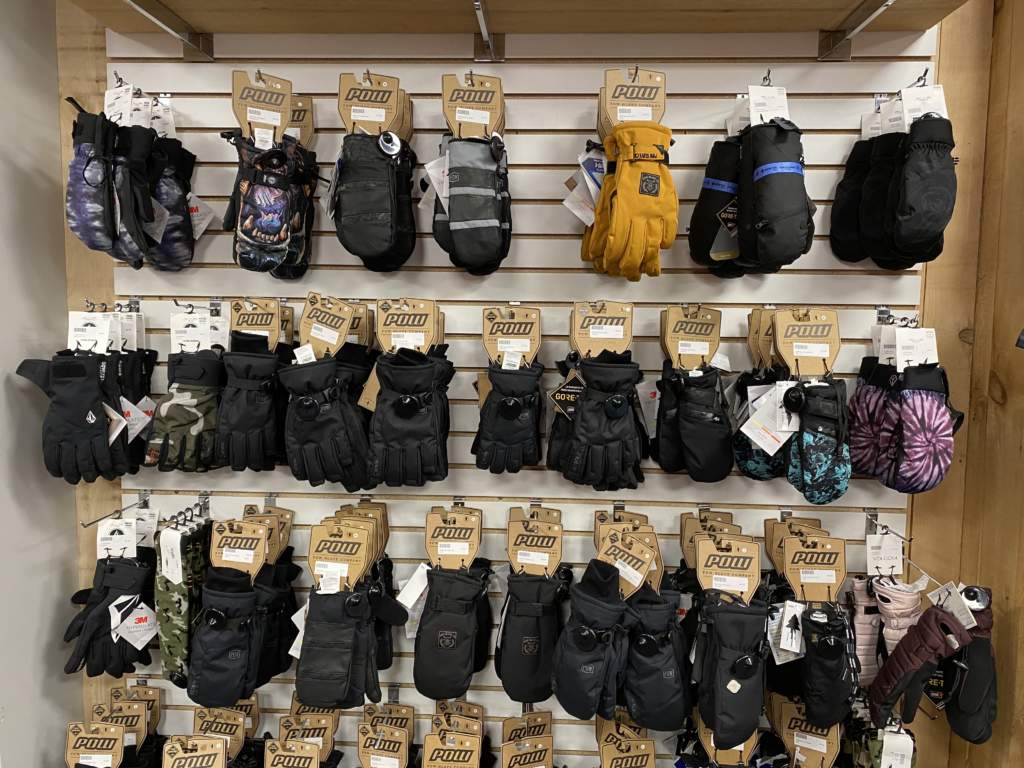 Pockets
At first sight, these seem too small to have much use, however they are the perfect size to fit hand warmers to keep your fingers toasty all day long.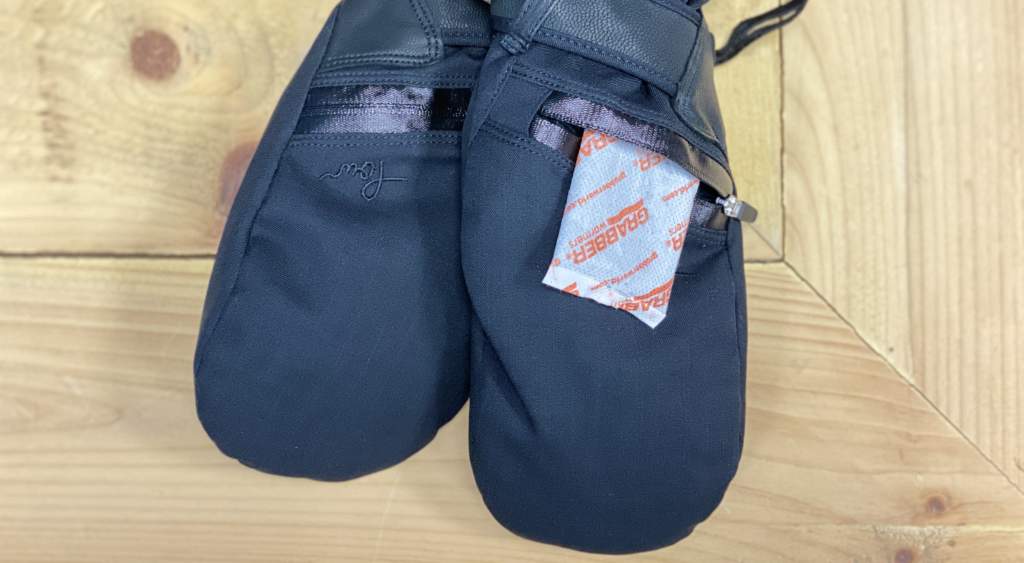 Materials 
Gore-Tex: Adds waterproofing to keep your hands dry in wet conditions.

Leather: Reinforces mitts or gloves, adding durability.

Synthetic insulation: Less expensive and fast drying.

Down insulation: Super warm, but less efficient if it gets wet.
Many mitts and gloves will feature a combination of these materials. It's all about finding a balance at the right price point for you.
Liners 
Some mitts and gloves will come with a liner that can be worn inside. Liners are usually technology compatible, so you can take photos or make gear adjustments without exposing your bare hands!
Most people will have a pair of mitts or gloves for general winter wear. These will work perfectly fine for skiing and snowboarding without going out and buying a brand new pair.
Helmet & Goggles
Helmets are an important safety piece that everyone should be wearing, whether you're a beginner or pro. 
Goggles are another important piece of equipment. They help improve visibility in both high and low light conditions. They also keep snow out of your eyes and keep your face warmer!
Helmets and goggles come in lots of shapes and sizes. If you're in the market for one or the other, bring the item you do have to try them on together. This will guarantee you have a seamless helmet-goggle fit.
Neck Warmer
These come in many different forms. Neck tubes, balaclavas that cover your neck and head, neoprene masks and many more! Find something that is most comfortable for you so that you can cover your cheeks and nose on really cold days to prevent frostbite.
Time to Ski and Snowboard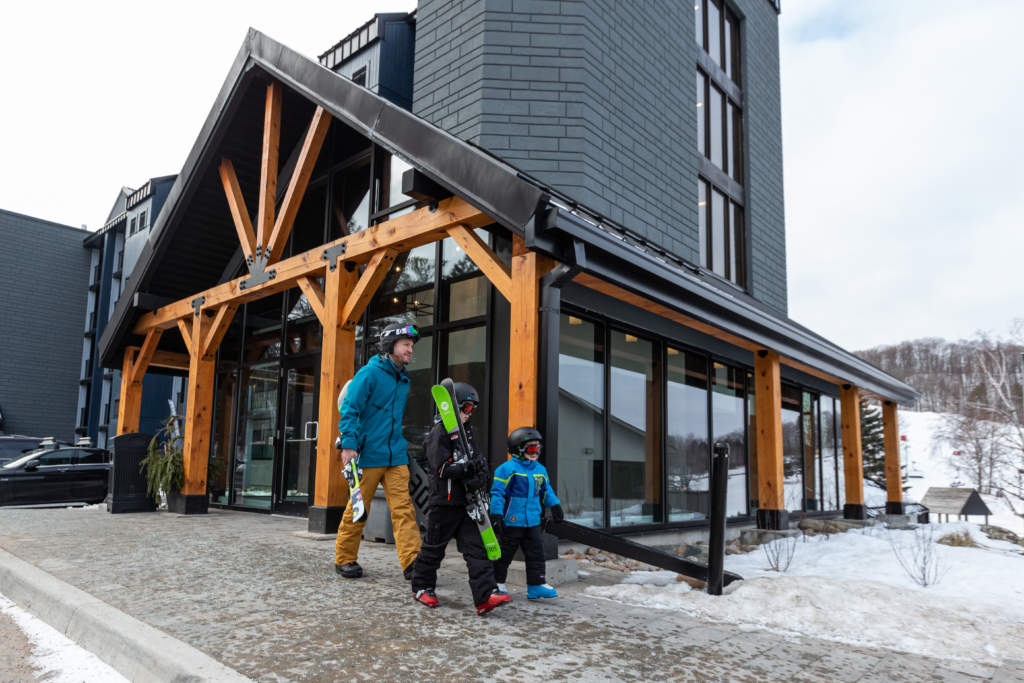 If while reading this, you have realized you need some new gear before hitting the slopes, the best thing to do is head to your local ski and snowboard shop! Even when armed with the right information, walking into a store and picking out the right gear from the masses can be overwhelming. 
Talk to an expert! They will be sure to get you set up in all the right gear.
All that's left now is to get dressed, hit the ski hill and stay warm!
Written by Hannah Simms