5 More Reasons to Visit Horseshoe This Summer
We're gearing up for an unforgettable summer at Horseshoe Resort, with more than ever to offer our guests and local community. Some great activities have been added to our roster, only adding to the long list of reasons why a trip to Horseshoe should be a must-do on your summer agenda!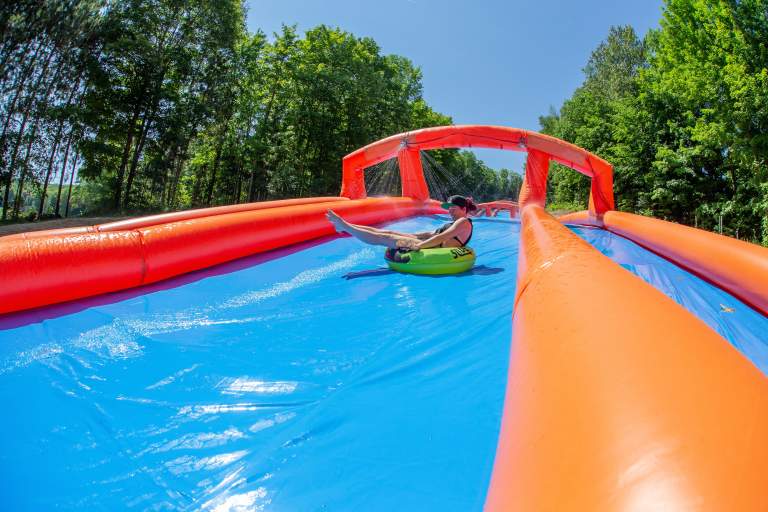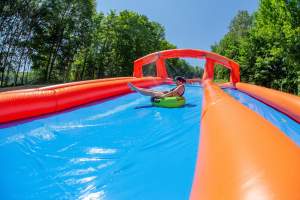 Slip & Slide
Have you heard? An epic Slip & Slide is coming to Horseshoe! At 1,000 feet in length, it's one of the world's longest slip & slides and has been touring Ontario and the United States for the past few years, stopping in select cities and towns for one weekend before moving on to the next location. The slide gets set up on a city street and attracts massive crowds. People line up with inner tubes for a chance to experience the exhilarating rush of soaring down 1,000 feet of pure slip & slide fun!
We didn't think that one weekend was long enough, so the Slip & Slide will be at the resort for the ENTIRE SUMMER! That's right, you can slip & slide all summer long! The slide's new home will be on our Ponytail ski run. Adventure enthusiasts will have the choice of walking up the hill or taking a scenic chairlift ride to the top. So grab your bathing suit, sunscreen and a towel and get ready to slip & slide your way to summer fun!
Wakeboard on Lake Horseshoe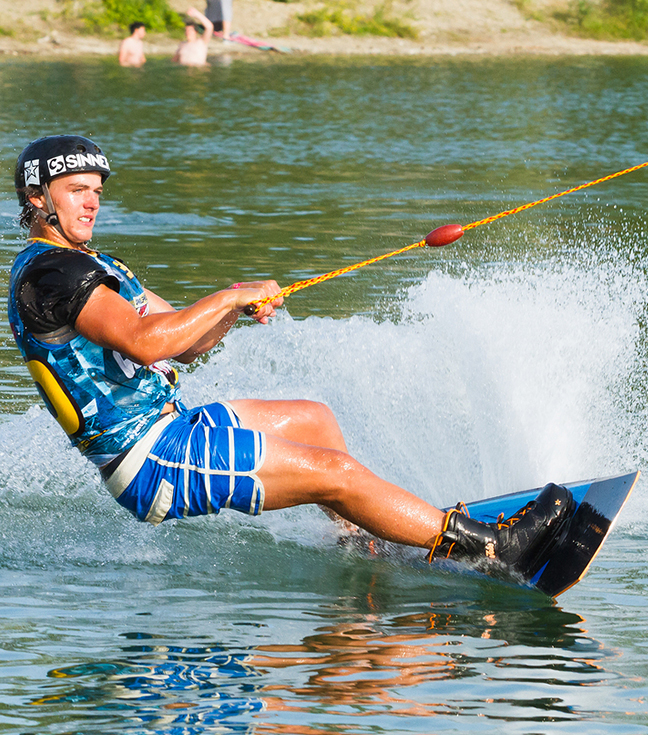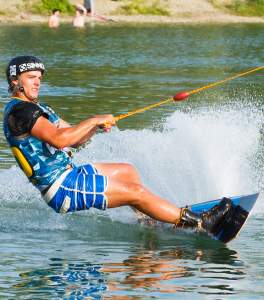 Get ready for even more fun on Lake Horseshoe this summer! We are excited to introduce our NEW wakeboard cable and can't wait for our guests and community members to strap on a board and try it out. No boat? no problem!
You might be wondering what a wakeboard cable park is and how it's different than regular wakeboarding. Rather than being pulled behind a motorized boat, a cable system is used to pull boarders around a set route in the water. Using the cable system allows beginners to get comfortable on a wakeboard before making the jump to riding behind a boat. It's the safest and easiest way to learn how to wakeboard! Cable parks are becoming quite popular, as they provide a great learning environment for those who are new to the sport and also offer more seasoned boarders the opportunity to practice tricks in a controlled atmosphere.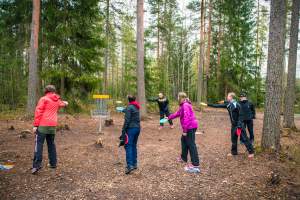 Disc Golf
Grab your friends, family and colleagues and give our new Disc Golf course a shot. If you haven't played disc golf before, you should definitely play a round this summer. Disc golf is very similar to regular golf, but instead of using golf clubs and balls, players throw a frisbee from a tee area to a chain basket. Like regular golf, the object of the game is to get through the course with the lowest score (lowest number of total throws).
Disc golf is very easy to learn and is a game that all ages can have fun playing. It's a great way to spend some time outdoors while engaging in a little friendly competition!
Beach Volleyball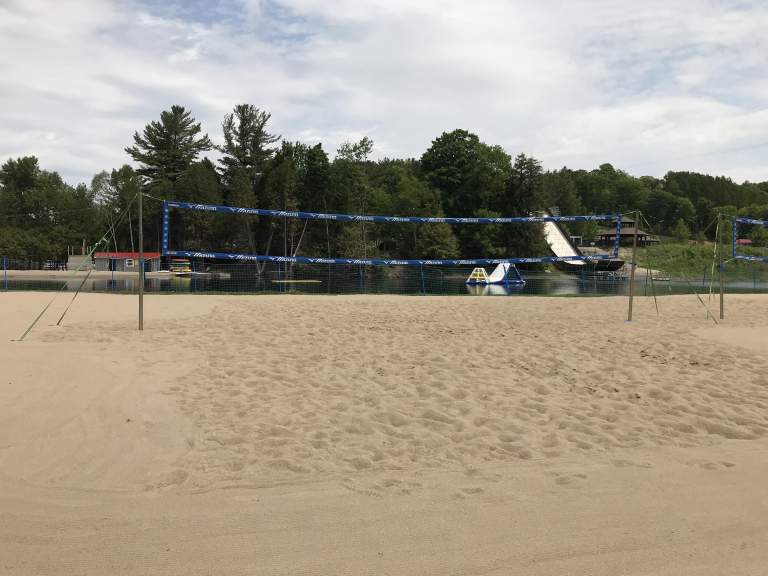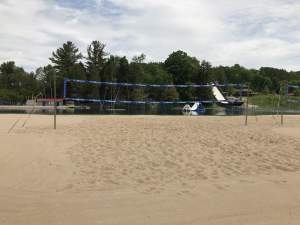 We have partnered with the Ontario Volleyball Association and Invado Volleyball and are proud to be able to bring beach volleyball to the resort this summer. Our new facility features 8 courts that are stocked with Hutcheson Sand, the same supplier for the Pan Am Games and the 2012 Summer Olympics in London, England. Located between Lake Horseshoe and the ski hill, the new courts offer players a scenic and peaceful setting, not to mention a ton of fun!
Players can jump in the lake after working up a sweat, take a stroll around the resort or enjoy a cold beverage and a bite to eat on the après patio. Does it really get any better?
Invado Volleyball will be running youth and adult leagues for 8 weeks over the spring and summer and there will be week-long summer youth camps in July and August, courtesy of OnPoint Beach Volleyball.
Stop by, dig your feet in the sand and have a little fun on the courts!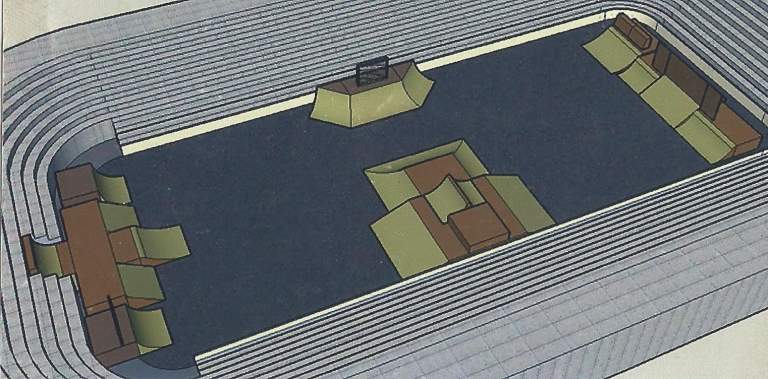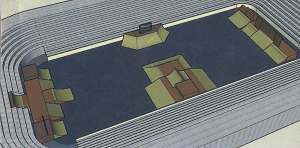 Skateboard and Bike Park
Break out your skateboards, bikes and scooters because we are bringing back our park, new and improved of course! The park will be in the same location (on your way to the snow tubing hill), but will have a fresh new look. The ramps were designed by Canadian BMX professional Jay Miron and are suited for all levels.
The new park will have lots of transitions and banks with 10 plus features. It will be up and running at the end of June, so come on over and test it out!
We're excited about all of our new activities and can't wait to officially kick off summer 2018! Come for the day or stay for a night or two. Regardless of how long your stay is, you can bet you will have an absolute blast!
Check out the rest of our summer activities here!
Written by Krystle Forget