Ontario's Best Progression Terrain Park
If the thought of entering a terrain park has you sweating bullets, we are here to help put your mind at ease. We recently sat down with Horseshoe Resort's Outlaw Terrain Park Manager, Matt Konings and Events Manager, James Frost, to learn some terrain park basics, what goes into building a great park and how the Outlaw Terrain Park is the perfect place for pros and beginners.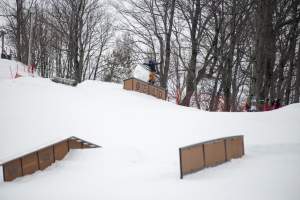 In the 1980s, most ski resorts banned jumping and tricks of any kind, as it was seen as a liability. Fast forward to the 1990s and terrain parks started popping up at resorts around the world. Today, most resorts have terrain parks, with some even being exclusively terrain parks. Each terrain park is unique in terms of its design and the number of features it includes–jumps, rails, rollers, boxes, half pipes, etc. As James noted, "it's more of a playground for skiers and snowboarders."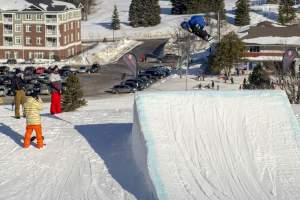 While Horseshoe Resort has had a terrain park for a number of years, prior to the 2016-2017 winter season, it was maintained by an outside party. The decision was made to bring all operations in-house, in an effort to have closer involvement and to truly put Horseshoe's stamp on it. When the 2016-2017 season kicked off, skiers and snowboarders were introduced to a new and improved terrain park. Rebranded as the Outlaw Terrain Park, there was a different look and feel to the park, "It's important for us to be unique and add our own twist to it," explained Matt.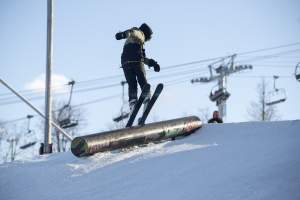 What's great about the Outlaw Terrain Park is that it caters to different skill levels and abilities. A lot of planning is involved to make sure that there is something for everyone from young children and beginners, to more experienced riders and seasoned athletes. Beginner features are not as long and are wider, providing a good starting point before moving on to something more advanced. The park currently has 35 different features and while jumps tend to be in the same spots, other features can be moved around within a night. Having the flexibility of changing the park format allows riders to be exposed to different elements of a terrain park and also keeps things fun and diverse.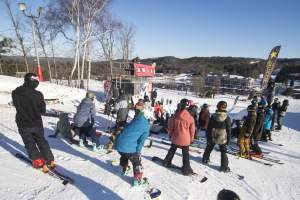 When a competitive event is held at the resort, the setup is often left as is for a few weeks, which gives the general public an opportunity to try something new and challenging. Bonus: the high speed six person chairlift is conveniently located close to the park, which means that riders can quickly get up the hill and back out into the park! 
There are lots of great events planned for the 2017-2018 winter season. For more information, check out our events page.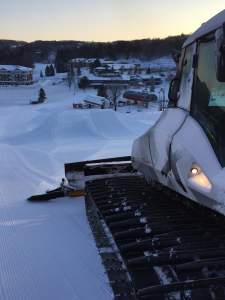 Maintaining a terrain park takes a lot of hard work, long hours and dedication. The Outlaw Terrain Park team consists of 10 members that work around the clock to make sure that the conditions are maintained to a certain level of standard. It's definitely a team effort, with everyone encouraged to bring their own ideas and experience to the table.
Matt, the Terrain Park Manager, has been an avid snowboarder for over 20 years and has 16 years of experience working in terrain parks. Being a sponsored rider for 14 years, Matt has done a lot of traveling throughout Canada and has had the opportunity to visit a number of ski resorts. He loves the freedom of being able to go out and have fun with friends on the slopes.
While Matt is a snowboarder through and through, James, the Events Manager, has 15 years of experience with both skiing and snowboarding and 10 years worth of terrain park experience at resorts in Ontario and British Columbia. James primarily skis these days and enjoys the rapid progression that freestyle terrain offers. He loves learning and seeing new tricks and styles and trying out new park layouts each season.
Both Matt and James love seeing new people interested in the park and encourage anyone that's on the fence to give it a try. There's no doubt that this dynamic duo bring a lot of knowledge and experience to the Outlaw Terrain Park, and along with their hardworking team, it's just one example of what makes the Outlaw Terrain Park at Horseshoe Resort so special.
There are some fantastic programs in place at the resort that are specifically designed to introduce younger skiers and snowboarders to freestyle skiing and snowboarding, exposing them to the terrain park and allowing them to develop their skills in a safe and encouraging environment. For more information, contact freestyle@horseshoeresort.com
If you plan on coming to check out the Outlaw Terrain Park (which we highly recommend), please note that a terrain park pass is mandatory in conjunction with a lift ticket or season pass. Park passes are only $10.00 and are good for the entire winter season. The small fee goes towards maintaining and enhancing the park, which benefits everyone in the end.
Written by Krystle Forget