Wedding experts have outlined what the biggest and hottest trends are for weddings this year, and Horseshoe Resort has everything you need to ensure your special day is spectacular!
Trend 1 – Brides Magazine says Virtual Wedding Planning is Key;
"Couples have gone fully mobile with their wedding plans. Millennials are all about instant gratification, so they want their wedding planning right at their fingertips at any given moment. There's going to be a continued increase in the online wedding planning process." —Li Zhou, LadyMarry
Horseshoe Resort's Wedding Coordinator will work with you on all aspects of your wedding ceremony and reception onsite, and can do so with ease from where ever you are. 
Face to face meetings are not always easy to arrange with your busy schedules and the wedding coordinator can meet with you virtually on Skype or keep you up to date with emails and texts.  Making your wedding planning as seamless as possible.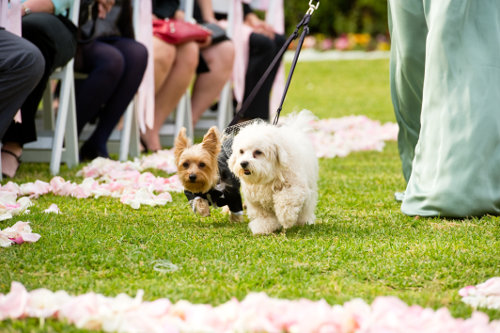 Trend 2 – Glamour Magazine encourages you to include your furry family member in your special day.
"In 2017 our four-legged friends will play an even bigger role in upcoming nuptials"
Horseshoe understands pets are a part of your family and that you want to include them in the festivities.  Have them stand in as your flower girl or ring bearer, or include them in your family photos.  The possibilities are endless on how to include your furry friends to ensure your special day is a true reflection of your family.  
As a pet friendly resort, Horseshoe welcomes your four legged family members and provide pet friendly resort rooms that are comfortable and easily accessible.  
Trend 3 – The Knot suggests that nature and simple greenery is a continued trend this year.
"Décor trends are going au naturel. Greenery (not just the color) continues to trend—it's easy to manipulate and can give your décor an undone but beautiful look."
Set in Horseshoe Valley and surrounded by the Copeland Forest, Horseshoe Resort is the ultimate nature venue.  Take the greenery trend to new heights and host your ceremony on our unique hilltop site that provides breath taking natural views.  The natural backdrop ensures all eyes are on you when you say I Do.
Set beside the beautiful golf fairway the outdoor tent is a fantastic option to truly bring the outdoors in, or you can end your evening with a bonfire under the stars. The ultimate natural setting only an hour from Toronto. 
FOR MORE INFORMATION OR TO BOOK YOUR special day, PLEASE CONTACT
Sarah McDonald
Wedding Sales Coordinator 
1-800-461-5627 x1226
sarahm@horseshoeresort.com